Syn's OOC Comment Box! wrote:Yeah. Not done. This is, ah, placeholder. Stats, and junk are done. Now, time to flesh out this guy!
Zhāolù supports his boss! wrote:"Ah, hell. If anyone should lead this city, it should be those that defend it. I support Guard Captain

Liu Shentong

!"

Rally the People! Win over the crowds, quantity has a quality all its own.

Relevant Stats: Intelligence (80), Charisma (80)

Relevant Skills: Acumen, Investigator, Propaganda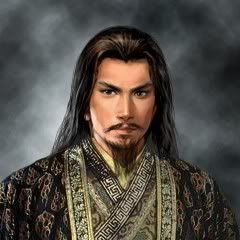 Name:
Sōng Fēishǔ (松飛鼠)
Age:
27
Gender:
Male
Rank:
Guard Sergeant
Stats:
60-40-80-60-80
Skills:
Acumen, Breeder, Investigator, Propaganda, Reversal, Spy,
Stealth(e)
Biographical Synopsis:
Words of a Drunkard wrote:I once visited the Moon Goddess whilst traipsing, quite vigorously down a dark, dank, but nigh deserted alley.
This guy's "life story" wrote:Names: Sōng Fēishǔ (松飛鼠), Càibāozi (菜包子), Zhāolù (朝露)

Sōng 松 - Surname | Càibāozi 菜包子 - Useless Person

Fēishǔ 飛鼠 - Flying Squirrel | Zhāolù 朝露 - Morning Dew/Ephemeral/

fig.

precarious brevity of human life

Once again, I, the world-renowned Xiàng Jiǎ (項甲) have returned to pen another magnificent journey down my bloodline! Now, I realize the importance of learning of one's ancestry and I believe that those that came before, live on, so long as they are remembered and celebrated! Well, it is for that very reason, I have put pen to this essay concerning the rise, fall and exploits of my distant relative Sōng Fēishǔ (松飛鼠), who was uncle to Sōng Xīnghuā (松星花), whom you may recall from my previously published essay. However, unlike, my esteemed ancestor, Sōng Xīnghuā, Sōng Fēishǔ is entirely unfortunate.

This is precisely because there is very little surviving historical records on him. Whatever deeds he performed, honors that were given to him and life he led, I do not know. There just isn't enough information. He was born in the north, to a minor branch of the Sōng (松) house. At some point, the patriarch of that branch moved them all. They, then resided primarily inside the city Wan, which neighbored the much more prosperous city of Xiāngyáng. According to surviving census records, they were a large clan. Their numbers totalling twenty-three during Sōng Fēishǔ's lifetime. He was the thirteenth child, and seventh son. We know from census records kept on the day of Sōng Xīnghuā's birth, that her uncle, Sōng Fēishǔ was present.

Of his childhood, we know nothing. I like to imagine, he had a modest upbringing and education as benefited by his clan's minor nobility. Interestingly, enough, there are a few excerpts of family documents and correspondences that hint at the man's general character. He was often described as "càibāozi", and in some cases, was directly called this when the authors' were referring to him. In many of the surviving letters from the year 190 CE, he is often referred to as, "Zhāolù." Most oftenly, by kin and acquaintances. From these letters, we can postulate that he fancied himself as an "independent constable" or, more colloquially, a private investigator. An eccentric man, even for his day, to be sure.

...
---
--Items--
Melee Weapon: None.
Ranged Weapon: None.
Headwear: None.
Bodywear: None.
Mount: None.
Treatise: None.
Manual: None.
Map: None.
Jewelry 1: None.
Jewelry 2: None.
--Gold History--
+0 (Starting)
----------
Balance-- 0
---
--Experience--
Leadership: 0/100
War: 0/100
Intelligence: 0/100
Politics: 0/100
Charisma: 0/100
--Experience History--
Leadership:
War:
Intelligence:
Politics:
Charisma:
---